Mobile Vending Backpack Drink Dispenser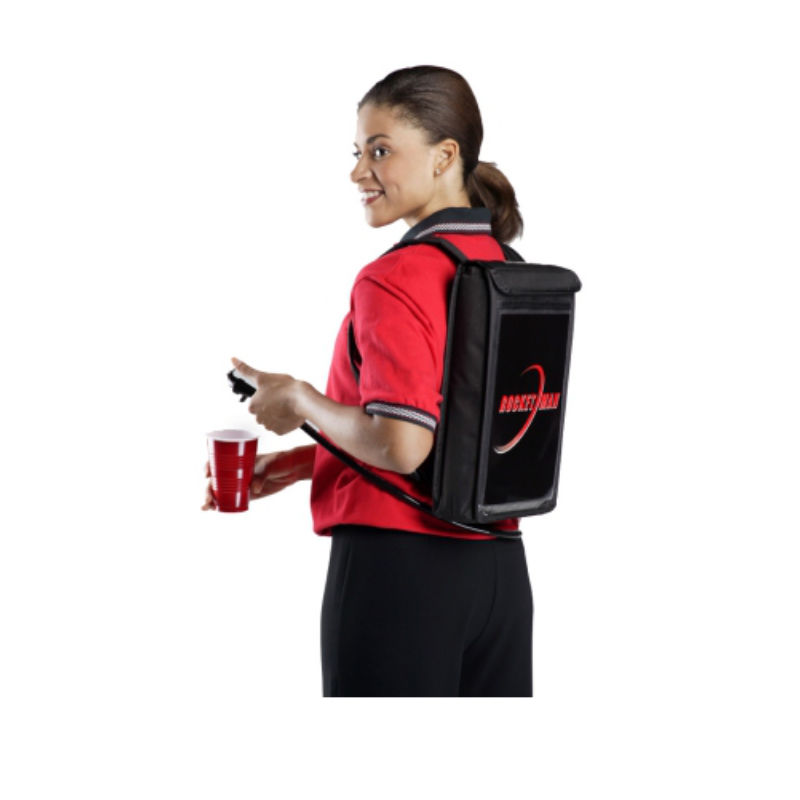 Rocket Man Mini Pak 2001
Mobile Vending Backpack Drink Dispenser
Beverage Backpack
Beverage type
Cold Non-carbonated beverages like, liquor& shooters.
Capacity
1,3 Gallons / 5 litres
Size
15" X 10" (Inches)
38,1 X 25,4 (cm)
Filled weight
13 Pounds / 5,9 Kg
Sign dimensions
8,5" X 11" (Inches)
22,2 X 29,8 (cm)
| Serving size | Number of servings |
| --- | --- |
| 4 oz/11,8 cl | 41 |
| 6 oz/17,7 cl | 27 |
| 8 oz/23,6 cl | 20 |
| 10 oz/29,5 cl | 16 |
Product Explanation
Each Mini Pak Backpack Drink Dispenser (item #M2001) comes with the following:
Insulated Backpack cover with padded shoulder straps
1.3-gallon (5 liters) plastic beverage tank with vent valve
Sign Compartment
Dispensing hose/gun
FAQ Frequently asked questions
What types of beverage products can the MINI PAK (#M2001) dispense?
5.9Kg.
How much does it weigh when filled?
13 pounds (5.9 kg).
What is the capacity of Rocket Man?
1.3 Gallons (5 Liters).
How are the drink products kept hot or cold?
Each Rocket Man Backpack Drink Dispenser is lined with state-of-the-art insulation designed to maintain the desired serving temperature of any hot or cold beverage (the product must be pre-chilled or pre- heated). The amount of insulation can be increased for use in adverse climates.
Will I need additional accessories?
Certainly not, unless you want to minimize the refuelling time. In this case you should acquire additional (beverage tanks) REF. 2110.
How can I put my logo on the backpack?
Each Rocket Man Backpack Drink Dispenser can be fit with a custom sign that covers 90% of the rear surface. Or, we can make a replica of any beverage container to fit over the backpack.
Accessories
Ref. 2110


Spare Beverage Tank (5 liter) — Minimize downtime by pre-filling spare tanks.