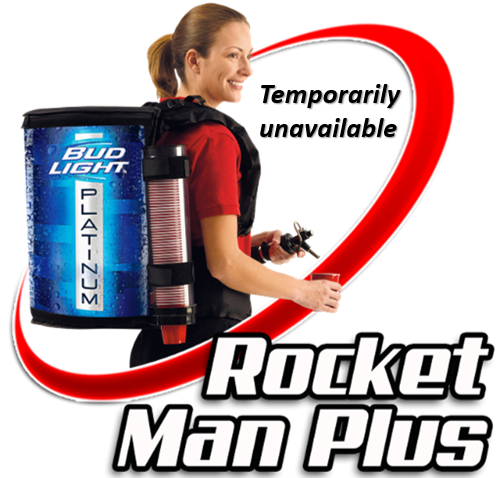 Rocket Man Plus M1001
Mobile Drink Systems
Temporarily unavailable
Mobile Drink Systems
Beverage type
All kinds of carbonated beverages, such as beer, wine on tap.
Capacity
3 Gallons
11.4 litres
Size
22″ x 12″ (Inches)
55,9 x 30,5 (cm)
Filled weight
42 Pounds
19.1 kg
Sign dimensions
16.75″ x 27.7″ (Inches)
42,5 x 70,5 (cm)
| Serving size | Number of servings |
| --- | --- |
| 6 oz/17,7 cl | 64 |
| 8 oz/23,6 cl | 48 |
| 10 oz/29,5 cl | 38 |
| 12 oz/35,4 cl | 32 |
| 16 oz/47,3 cl | 24 |
| 24 oz/70,9 cl | 16 |
Product Explanation
Each Rocket Man Plus M1001 Backpack Drink Dispenser comes with the following:
3 Gallons (11.4 Liters) Stainless Steel Beverage Tank
Mini Gas Cylinder & Regulator
Insulated backpack cover
Harness assembly with shoulder & chest straps, hip belt and lumbar support
Sign compartment (clear vinyl)
Cup dispenser
Dispensing Hose & Gun
FAQ Frequently asked questions
Which are the differences between ROCKET MAN PLUS (#M1001) and ROCKET MAN (#M1002)?
ROCKET MAN PLUS (#M1001) is designed for carbonated soft drinks, draft beer, hot & cold beverages such as: wine, liquor & shooters, and is equipped with a CO2 mini gas cylinder.
The ROCKET MAN (#M1002) is designed for hot beverages such as coffee, hot chocolate, tea, soup or cold non-carbonated beverages and water.
On the other hand, ROCKET MAN PLUS (#M1001) has a slightly superior capacity (11,4 l / 3 gallons) against the 9,5 l / 2,5 gallons of the ROCKET MAN (#M1002).
How do I recharge the mini gas cylinder, and how many beverage tanks does it pressurize before it must be recharged?
The CO2 mini gas cylinder can be loaded using normal industrial gas cylinders which you can find for sale in your market and identical to those used on the equipments to serve draft beer in restaurants and bars.
The mini gas cylinder can be recharged within a matter of seconds. The mini gas cylinder will contain enough pressure to dispense three full gallons (11,4 l) of beverages. It must be refilled each time the tank is empty.
How do I fill the ROCKET MAN PLUS with draft beer or soft drinks?
You will transfer the draft beer or soft drinks into the ROCKET MAN PLUS beverage tank from a keg or pre-mix tank keeping all the quality of the beverage by preventing exposure to air and light during the transfer process.
How do I clean the equipment?
The stainless steel beverage tank, dispensing hose and other components must be cleaned at the end of each day's use. We recommend using a beer line cleaner (BLC) or a food/beverage grade cleaner and sanitizer. See Cleaning and Sanitization at the bottom of the Operating Instructions page for full details.
In great events how can I be able to speed all the refilling process of the drink backpacks?
We advise you to purchase one extra beverage drink tank (#1110) to work with each five drink backpacks you are working with.
Previously you will have to fill the beverage tank and keep them in refrigerating coffers, avoiding them to heat in contact with air.
This way, everytime you need to change one empty beverage tank from one backpack to another previously full you only need to get another from the refrigerating coffer, saving time in all the process.
Can I use the ROCKET MAN PLUS (#M1001) to serve different beverages?
Yes. For example, you could use the unit to dispense draft beer one day and soft drinks the next. We recommend that you purchase a spare beverage tank (#1110) and a spare dispensing hose (#1202) for each beverage.
Accessories
Ref. 1109-03


Stainless steel disconnect for Co2 filling application.

Ref. 1205


SNIFTER valve — Will vent the beverage tank and enable beverage to be transferred.

Ref. 1206 OUT


Quick disconnect fitting (colour blake).

Ref. 1206 IN


Quick disconnect fitting (colour gray).

Ref. 1130


Rocket Pump — Used to pressurize the Beverage Tank for serving non-carbonated beverages.
Accessories to speed up filling operations
Ref. 1110


Additional beverage tanks — Minimize downtime by pre-filling spare tanks.

Ref. 1203/1204


Mini Gas Cylinder/Regulator — Minimize downtime by pre- filling mini Gas Cylinder.